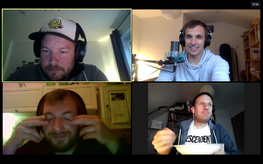 In these special times, we meet weekly in video calls to discuss further details for the upcoming album. Our engineer and friend Phil Meyer was also fucked by Corona and he had a lot of work to fix daily problems in his music school. In the meantime we wrote lyrics and did vocal-prerecordings at home. We hope to start recording vocals soon. But it's not that important at the moment. 
This weekend would have been the wonderful BoozeCruise Festival in Bristol. We are very sad that we couldn´t play there. :-(
Unfortunately it is not yet clear whether it will take place again in this format next year. We hope sincerely! We are in our thoughts at Daniel and his BoozeCrew in Bristol. #fuckcorona!
Take care of yourselves and stay tuned! New stuff is in progress!