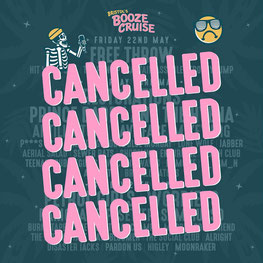 Hey folks! Now it´s true! Booze Cruise has been canceled! The fucking virus is still alive! We are very sad, but there are just more important things at the moment. Stay safe!
The statement from the Booze-Crew:
"Hey folks,
This painful decision has been looming for a while now but we feel its now time to make the call.
Regrettably, we are going to have to cancel Bristol Booze Cruise. 
As you can imagine, this is not an easy one for us. 
We have done everything we can to make this work but it's seeming more than ever, impossible for the festival to take place in an environment that is safe for everyone involved. It feels morally weird to try and market/sell tickets for a festival that could potentially be detrimental to people's health and put even more strain on the national health services. The festival is 9 weeks away and the government looks set to keep a rolling lockdown for at least 12 weeks.
As it stands, there is no reschedule date.
We will start the refund process for everyone who has purchased a ticket.
If you can afford to not-refund your ticket we will donate your money to our friends at Exchange.  
They has been hit really hard. If you don't already know, Exchange is the hub of all things amazing in Bristol. It's the best (community-owned) venue, employs great people, homes Specialist Subject Records, has an amazing cafe and in general provides so much positivity for the scene. Their future is unclear for them, potentially not being able to reopen on a regular basis until the end of the year.
On Saturday 18th April we will be doing an online show with all monies going to the Exchange to try and help them and their employees get through these tough months.
Save the date, more info will follow asap. 
We are so sorry for the bad news but we are all in this together. It's strange, tough and unpredictable, but together we can come out stronger.
Much love, stay safe and look after each other.
Booze Crew"